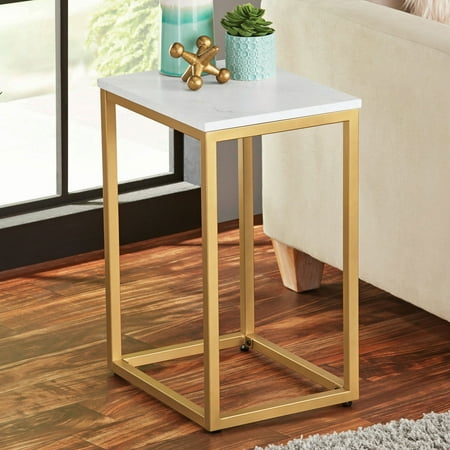 Add contemporary flare to your space with the Mainstays End Table. A modern mix of materials and finish options creates an attractive piece that will complement a variety of home decors. This end table features a durable yet stylish metal frame with a painted finish, and a sturdy laminate table top that provides a spacious open area for displaying picture frames, resting beverages, or placing remotes, books, and other small accessories. The clean lines and geometric silhouette come together to craft a contemporary feel that instantly styles up any room scene. Its minimal and lightweight design makes for an easy assembly process and placement in your home to use as an accent, end table, chair side table, or plant stand. The Mainstays End Table is that extra touch that will complement your living room furniture.
Sturdy metal frame
Clean, simple space-saving design
Small size for versatile use as end table, chair side table, plant stand and more
Table top provides space for displaying family mementos, setting a remote or book, or conveniently resting a beverage
Multiple finishes available
Easy to assemble
Dimensions: 11.75" W x 15" D x 21" H (29.8 cm x 38.1 cm x 53.3 cm)Model # MS18-04-1011-01, MS98-020-082-01,MS98-020-082-02
Customer Reviews
Really nice!
Really nice! I needed 2 night stands that were small enough for my small space. They give me more room and are really classy looking. They are smaller than you expect, but it worked out in my space. They were hard to take out of the box, but the instructions are simple and easy to follow. I put them together in less than an hour. They are sturdy and the marble looking top makes them look classy. I took pictures including the detail of the light marble looking top.
Loved these end tables!!!
Wow, these look so much more expensive than they are. I love that they arentThey are sturdy and super cute. Definitely want to use coasters on these if you're going to use them next to a couch or something because they obviously arent real marble but looks great. super shiny but kinda matte looking.Monica
Compact and cute
The mainstays end table is a space saving design with a metal frame. The top is black wood that is screwed into the metal frame. The table is not very tall, and can only hold up to 50 pounds.
It was easy to put together even though the instructions were not the clearest. I currently have the table between two chairs, and I am going to use it for setting drinks on, or other small items.DR4881
You may also be interested in